The Bartlett Homestead Stables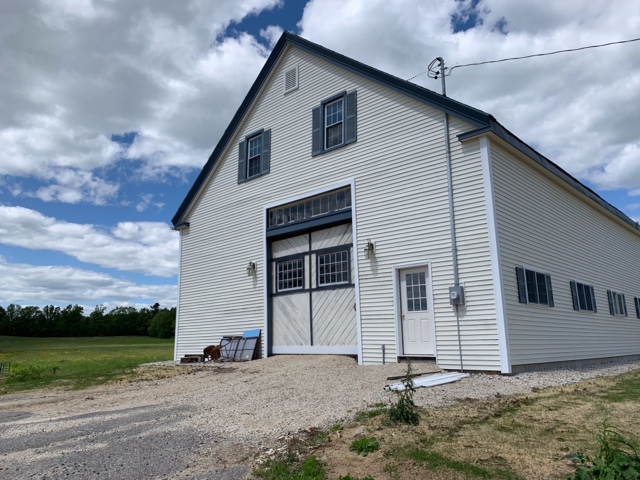 This Civil War-era barn was in great need of extensive repair when the Goranssons acquired Kay Thompson's former Broadfield's 1860 horse barn and 1740 house in 2017.
The Bartlett Homestead Stables are located in this historic landmark built in the 1800s and renovated in 2018-2019 with thirteen stalls, located at 235 Depot road in Eliot, Maine, and is now open for horse boarding. What is today 235 Depot Road is where the Bartlett family, one of the most prominent farmowning families in Eliot made their homestead when they moved up from Newburyport, Massachusetts. At that time, Eliot was the West Parish of Kittery, Massachusetts! If you are interested in more about the history of the early Bartlett settlers on this farmland and their interactions with the local native Americans, check out Views From Rosemary Hill (Author: Helen Goransson 2010) After nearly two years of renovations, the barn is standing tall once again and is now ready to house horses comfortably! Surrounded by lush, rolling hay fields and plenty of trails, this historic barn offers an idyllic location to board your horse just minutes from downtown Portsmouth, NH. At the Bartlett Homestead Stables our horses' care is our number one priority. The barn is set on 36 acres of our own hay fields and provides a peaceful atmosphere where horses can thrive. The facility has a tack room with a cubby for each boarder. <! and a bathroom with a shower is available on the premises. REMOVED BASED ON CAUTION FROM SUZANNA on 5/29/19> The small yet well organized tack room also serves as an office space where messages and notifications can be seen right away. We provide grain and hay to all boarders. Boarders have access to scenic trails and a small riding field <!and potential for rental of a nearby indoor riding arena> .