The Bartlett Homestead Stables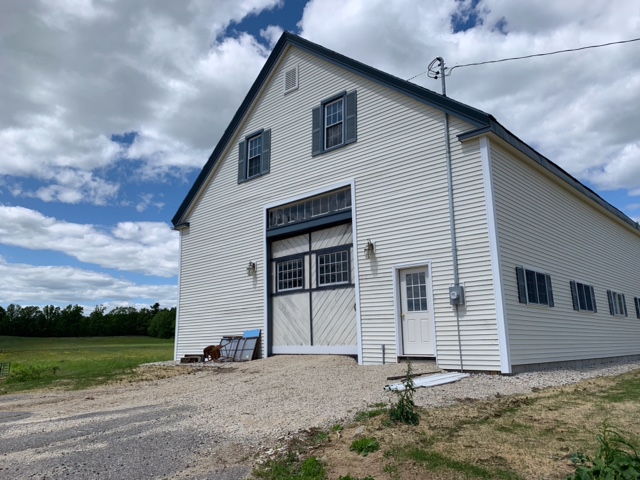 The Bartlett Homestead Stables are situated a short drive from Portsmouth, New Hampshire at 235 Depot Road in Eliot, Maine on the lands homesteaded by the Bartlett family when they moved north from Newburyport, Massachusetts in the late 1680's. For those interested in that history, refer to "Views from Rosemary Hill" which chronicles the history of the region from before the 1600s to 2010. Views From Rosemary Hill This extensive farm passed into the hands of Bert Irving in the first half of the twentieth century. Bert used the barn as the center of his cattle operation through the 1950's. In the 1960's the barn was converted to horse stables. Kay Thompson acquired the farm in the 1970's and spent 40 years establishing her reputuation as one of New England's premier Morgan Horse breeders and trainers centering her operation in what is now Bartlett Homestead Stables. When Paul and Helen Goransson acquired the property in 2017, the barn demanded complete restoration. The extensive renovation projects conducted in 2018 and 2019 were documented in a number of print and television stories, including:
Bartlett Homestead Stables (BHS) is part of the 240 acre Bondgarden Farm operation, which focuses on beef and hay production. One of the advantages of this synergistic relationship is our consistent access to our own high-quality horse hay, a feature that few area boarding operations can offer, resulting in reliance on truckloads of less palatable hay brought in from Canada or New York. The barn is organized as 12 stalls, a feed room and a tack room, which includes a cappucino machine for tired riders needing an energy boost!
There is also access available to a toilet and shower in the common area of the adjoining 1740's Bartlett Homestead house. There is a lounge area above the tackroom with plently of space to enjoy that cappucino on a wet and cold day! Boarders have access to scenic trails and an outdoor riding ring.